Honor Medal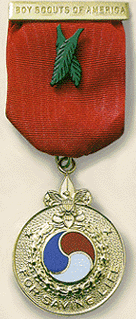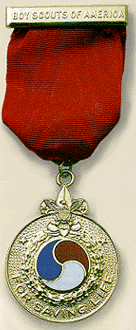 ---
The Honor Medal is presented to Scouts and Scouters shown courage in attempting to save a life with personal risk. This award has been presented posthumously to Scouts who have died while attempting to save the life of another. In very exceptional cases the award is presented with crossed gold palms to Scouts, and Scouters who have attempted to save a life at great personal risk demonstrating exceptional heroism.
Mike Walton (Settummanque) has prepared a sample Script of a presentation ceremony for awarding these Medals and/or Certificates. Click Here to download a file containing the script, which can be opened in most word processing programs. (RTF file - 5 KB)
For more information on the Medal of Merit, Honor Medal, or Heroism Award and the nominating process for the awards, see the following page on the BSA website: http://www.scouting.org/About/FactSheets/Lifesaving_Action.aspx
The form for recommending someone for the Medal of Merit, Honor Medal, or Heroism Award, is a 12 page form, entitled "Recommendation for Lifesaving or Meritorious Action Awards." It can be downloaded in PDF format from the following location: https://blog.scoutingmagazine.org/wp-content/uploads/sites/2/2018/08/Lifesaving-Award-Application-August-2018-revision.pdf.
---

The above knot is the old version of the same knot issued for the earlier khaki-green uniform./p>
---
Page updated on: August 30, 2018
---