Heroism Award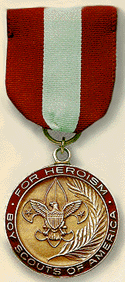 ---
This award was discontinued in 2012, and reinstated in August, 2018.
---
The Heroism Award is presented to Scouts and Scouters that have saved a life at little or no personal risk.
For more information on the Medal of Merit, Honor Medal, or the Heroism Medal and the nominating process for the awards, see the following page on the BSA website: http://www.scouting.org/About/FactSheets/Lifesaving_Action.aspx.
The form for recommending someone for the Medal of Merit, Honor Medal, or Heroism Award, is a 12 page form, entitled "Recommendation for Lifesaving or Meritorious Action Awards." It can be downloaded in PDF format from the following location:
https://blog.scoutingmagazine.org/wp-content/uploads/sites/2/2018/08/Lifesaving-Award-Application-August-2018-revision.pdf .
---
Page updated on: August 30, 2018
---